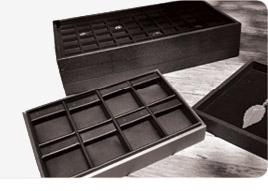 Have you ever tried to pick out a jewelry tray and gotten overwhelmed by so many options? If your answer is yes, this guide is for you! We know how challenging it can be to know where to begin when faced with a variety of options. Black or white trays? 1ÔÇØ deep or 2ÔÇØ deep? Wood or plastic?┬á Full size or half size? Trays, trays, trays! LetÔÇÖs begin to sort through the options, shall we?
First, letÔÇÖs visit the difference between half size and full size trays. Full size trays measure 14 3/4″ long x 8 1/4ÔÇØ wide, with different depths (which weÔÇÖll cover next). The full size trays will accommodate full size tray liners. Half size trays measure 7 1/4ÔÇØ x 8 1/4ÔÇØ and will accommodate the half size tray liners.

Tray depths.┬áStandard full size trays (the wood or plastic trays without lids) are typically 1ÔÇØ, 1.5ÔÇØ, 2ÔÇØ or 3ÔÇØ deep. The most common depth is 1ÔÇØ, but this really depends on what youÔÇÖre displaying and what look youÔÇÖre wanting to achieve. The 1ÔÇØ trays are fantastic for charms, rings, beads, or anything that youÔÇÖll be displaying with a tray liner. The deeper trays are great for displaying sunglasses, pouches, and other larger items.
Colors. Trays typically come in black or white. YouÔÇÖll want to choose the color that will best set off the colors of your products, as well as a color that will correspond with the rest of your displays.
Finally, should you choose plastic or wood? The plastic trays interlock, making them stackable. If youÔÇÖre also purchasing a carrying case and storing the trays in the case, or planning on traveling with your jewelry, the stackable trays can help make the mobile display process easier! The wood trays are wrapped in leatherette for a beautiful, finished look and are a great option for an elegant display.
A few side notes on trays:
-There are also a variety of trays that have lids for extra protection during display, as well a series of lightweight trays that work well for home shows.
-Looking for an elegant, premium tray? The aluminum tray with glass lid is an excellent option for the showcase.
-There is a series of trays made especially for showcase use. You can find the showcase trays here.
The next step to creating a display with a tray  is choosing a jewelry tray liner, which we will cover in our next post!