Just starting out selling jewelry and wondering where to start with your jewelry displays? It can be overwhelming to think about traveling with your jewelry, setting up a booth, and creating an eye-catching display table! We know you want to get started selling your pieces quickly, so weÔÇÖve put together just a few tips to help you get started displaying.
1. As a general rule, keep display colors and styles consistent. You can do this in two ways. First, by keeping the colors and materials consistent throughout your displays (all leatherette or velvet, for example, or all light colors or all dark colors). Second, by making sure your displays compliment your jewelryÔÇÖs style. If your jewelry has a summer beach feel, your jewelry would be better displayed on something like a linen display than on black velvet.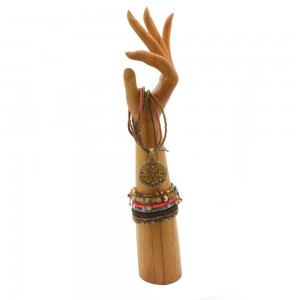 2. Use appropriate displays for your jewelry. For example, would an easel or a bust work best for your necklaces? A finger or slot display for your rings? Do your bracelets work best on a T-bar, or do they need to lie unclasped on a half-moon or ramp? Each style of jewelry is best complemented by particular display styles (and sometimes even a mix of styles).
3. Remember to use different height levels. Keeping varied height levels throughout your display table (especially in groups of three with the ÔÇ£high, higher, highestÔÇØ elements) will help your customers be able to naturally read your table and easily find what you have to offer. By having everything on the same level or same height, itÔÇÖs more difficult to differentiate between products and your customers will have a harder time finding items–which means they may give up and look elsewhere.
Although these are a few general rules that help to make displaying consistent and simple, the more you go to shows and set up your displays, youÔÇÖll figure out what works for you (and youÔÇÖll come up with tricks of your own!). Best of luck as you get started displaying!