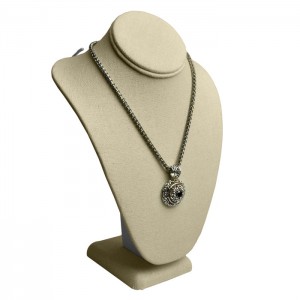 Crafting your necklace display is an important part of selling your jewelry. The presentation of your jewelry is what will draw potential customers in for a closer look (and then they'll fall in love with your necklaces!). There are a few things that you can do to display your necklaces in an optimal way.
1. Remember height levels. There should be a tall, taller, tallest element to your display so that your customers' eyes are able to naturally "read" the display. Believe it or not, it's harder for people to focus on products when they are in a straight line with no height differentiation.
2. Color scheme and props. Your display is the story of your jewelry. When you're crafting this story, you don't want to use elements that don't fit the theme of this story. Use props and a color scheme that will compliment  your jewelry and that will be coherent with your entire display.
3. Pick a display that is the best fit for your jewelry. We wrote a post about this last time, but to recap briefly, you want to choose the right display for your jewelry's style. Necklace busts and necklace easels are both great options, as well as wire displays, but each type of display has pro and cons. Be sure to research which type will be best for your jewelry.
Finally, just have fun! Creating a display shouldn't be stressful or overwhelming. Relax, and enjoy the process.