12 Days of Deals–Day Six!
Necklace Box (Leatherette Model)
The details: Today's elegant deal is our beautiful leatherette model necklace box (VN7-BK-W-BK). You'll save 17% by purchasing this box now! Ideal for classic, elegant gift packaging, such as an extra-special necklace that is being given as a holiday present. Leatherette model is a luxurious material, and one of our finest boxes. Box measures 4 1/4 " x 7″ x 1 5/8″ tall, and is black leatherette model, with a black insert and with white on the inside of the lid. Two-piece packer is included. Originally $4.23 per piece.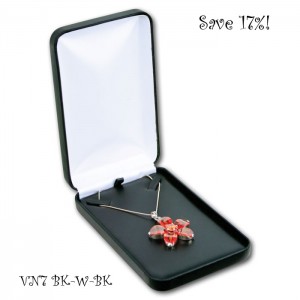 Love this box and want to see more? Browse our entire line of Leatherette Model Boxes.
(Cover image  courtesy of samarttiw at FreeDigitalPhotos.net)