Introducing the 12 Days of Deals Before Christmas!
For the next 12 days, we'll have a new deal every day on an item you love (or that would make a great Christmas present!).
To start things off on Day One, we're giving you a savings of $9.55 on this beautiful Rosewood Watch Case.
The details: Originally $59.40, today the case will be available for $49.85. This lovely case is perfect for the top of a dresser or on a vanity to keep a collection of watches in one, easily-accessible place. Holds up to 20 watches, ten on top and ten in slide out drawer at bottom of case. The glass top adds to the elegance of the case and easily allows you to see inside! Rosewood finish makes this watch case especially charming . Measures 11 5/8″ x 8″ x 5 1/2″ tall when closed.
Have to have it (or know someone who would love this as a gift)? Shop here.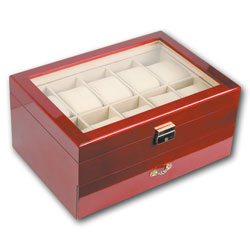 Don't forget to check back for Day Two's Deal tomorrow!
(Cover image  courtesy of samarttiw at FreeDigitalPhotos.net)