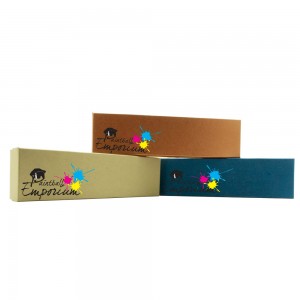 We have some exciting news to share with you!
We are now offering FULL COLOR custom logo printing on all cotton filled boxes. This means you can now print on the face of a cotton filled box, in just about any color you can imagine! We're able to offer halfscale, grayscale, and any Pantone color you'd like. For a limited time, we'll be offering a special introductory price of $14/per 100 boxes.*
Getting your logo printed on your jewelry boxes is one of the best ways to carry your brand from store to street. By having your logo printed on the boxes you give to your customers, your company name will be in their minds every time they see the jewelry box. The more familiar people are with your brand, the more likely they'll be to remember your name for future purchases. Although there are many ways to have effective branding, custom logo printing is a great place to start or a way continue with your branding.
Start with your custom logo printing today! To begin the process, follow these simple steps and you'll be on your way to having your logo printed on your packaging:
1. Create an account and log in.
2. Upload or create your logo here (don't forget to name your logo!).
3. Go to the product you're wanting to attach your logo to, click the drop down menu under the "Add Your Logo" icon and select your logo to attach it to the product.
4. Add the product to your cart and continue to checkout or return to shopping.
Our graphic designer will be in touch with you via email with a mockup of your logo on the product you've selected. If you have questions about custom logo printing, please call 1-888-317-2213.
*This price does not include the price of the boxes.