Need some jewelry tray liners for those trays? We thought so.
It can be challenging to know which liners you need for your trays (especially when there are so many options). To make it simple, we're broken it down into four main categories of tray liners: Compartments, Gemstones, Liners and Pads, and Rings.
Compartment Liners— These liners come with anywhere from six to fifty vertical or horizontal compartments and can be used for a wide variety of products such as bracelets, necklace, beads, stones, and much more. The compartment liners are useful for both display and organization.
Pro tip: Some of the compartment liners work especially well for specific display products; for example, the ten compartment tray liner (96-T1) fits the Glass Top Gemstone box (GB-0001) perfectly! Also, the 28 compartment liners are perfect for earring displays (item number BX565 fits right in there!).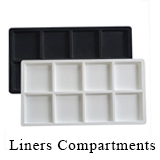 Gemstone liners— the acrylic gem jar liners are ideal for gems, beads, charms, lockets, and much more! The gemstone liners are all the same dimensions, but have different sizes of jars depending on how many jars are in the liner. These liners range from 24-50 jars per liner for the full sized liners and 12 or 25 jars for the half-sized liners. The acrylic jars all have a foam insert, a pop on/off lid, and are set in a foam pad that comes in either white or black. Once placed in a jewelry tray, this makes for a fantastic display!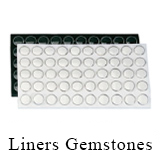 Liners & Pads— excellent for an elegant and classic display. Velvet display liners are ideal for displaying, and a simple way to go from traveling to displaying without a extra hassle. Simply place your jewelry on the display pad or velvet liner in an attractive manner for an eye-catching display.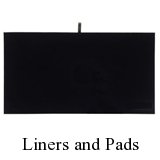 Rings— Ring liners are available in two types. Foam pads with ring inserts, or as tufted tray liners. These come in full size or half size liners, and have a few different color options.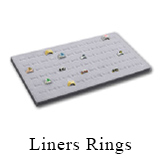 Remember: liners go inside trays to make a complete display. Full size liners will fit in full size trays, and half-sized liners will fit into half-sized trays.