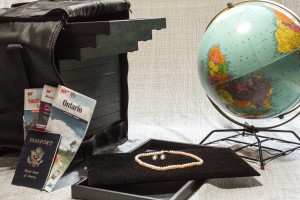 Doing a lot of traveling to shows this year? Keep everything organized with a collection of mobile display items from Gems! This month we are featuring the 91-4B Premium Carrying Case with Wheels,  which holds 12 of the black stackable trays (TY-0011-BK), and a variety of you-pick-what-fits-you tray inserts. We have inserts of all types, from compartments to rings to velvet liners.
Traveling can be stressful, especially when your mind is focused on your show. You can keep part of that hassle to a minimum by keeping your jewelry, gems, or beads organized and ready for display. Take away the stress of wondering how you are going to get your products to the show safely  with a carrying case! Our featured carrying case has a pull-out handle and wheels for easy transportation, as well as a dual zipper side-loading design that makes pulling the trays out easy. It measures 16″ x 9″x 13 1/2″. Need something bigger or with different features? We have a wide variety of other carrying cases that are sure to meet your needs!
The featured carrying case holds our stackable black trays to keep them from sliding around in the case, but you are able to choose the type of tray liner that best suits your needs.
Carrying beads or gems? Give the gemstone tray liners a try!
Carrying bracelets, earring, or necklaces? Find a compartment liner with the right number of compartments for your products!
Wait, we're forgetting rings, you say? Not for a second! We have an entire category dedicated to ring tray liners just for you!
Don't forget to browse our velvet tray liners for displaying, too. Simply place jewelry on the liner for an instant elegant display. Any of our full-sized tray liners will fit into a regular-sized tray because we know how important it is for you to be able to customize your tray inserts.
Here's to stress-free and organized traveling!
If you have any questions about the best carrying case or inserts for your products, give us a call at 1-888-317-2213! We know our products and would be more than happy to help you find the perfect option. For display inspiration, check us out on Pinterest.