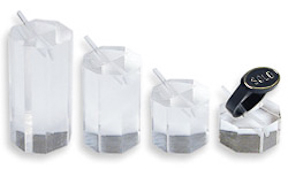 If you've been using acrylic displays for a while, you might have figured out that if you aren't careful, they can scratch easily while you're cleaning them! There are some simple things you can while you're cleaning them to protect your displays and keep them from becoming cloudy or scratched.
Clean. Don't clean them with a harsh or abrasive cleaner! Bleach or ammonia will not be kind to your displays. Instead, use a gentle cleaner such as dishsoap. If it is a light clean you are needing, plain water may be sufficient.
Wash. Carefully choose what you use to wipe or brush the acrylic. A soft toothbrush or polishing cloth are ideal for gently srubbing the acrylic to remove and dirt or dust particles that might be clinging to the surface.
Dry. A soft, lint-free option is preferable to dry the acrylic. For example, a paper towel or even a coffee filter are good options because they wil not scratch the acrylic or leave lint behind on your shiny, clean display surface.
What works best for you as you're cleaning your acrylic displays?