You already know that you can get your logo printed on many of the products you use every day (and you know how much this helps you with branding) but one question remains. Which products can you add that logo to? ItÔÇÖs a wonderful question, really, and the answer wonÔÇÖt disappoint you! There are so many options for products that can have your logo added. You can learn more as you continue reading, or visit our home site and browse your favorite products to see if they have the ÔÇ£add your logoÔÇØ icon next to them.DisplaysA wide variety of popular displays can be imprinted with your logo so that your customers are familiarized with your logo as they browse through your store. Products such as acrylic watch display stands, all white leatherette displays (such as this t-bar display), 3D necklace, ring, and gem displays such as this 3D earring display, and more!
Earring Cards
Earring cards or display cards are another way to make your logo visible as they hang on a rotating display or are placed on a creative earring display. You are able to print on a variety of display cards from the Sterling Silver earring cards to the regular 1 ┬¢ÔÇØ square earring cards to bracelet and necklace cards.
Gift Packaging
Send your customers home in style! Add your logo to your gift packaging process by having it printed on your gift bags. They wonÔÇÖt be able to forget you when they get home and open their bag again to see the products they are excited to have purchased (and everyone who sees their bag will also see your logo!).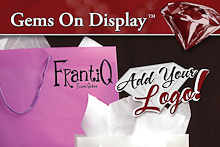 Jewelry Boxes
Be part of every special jewelry moment by adding your logo to your jewelry boxes. Whether it is the inside of an engagement ring box, a pair of anniversary earrings, or a just because necklace, you want to be there. Print your logo on your jewelry boxes and be part of these lasting memoriesÔÇöyour customers will come back for more happy moments.
Happy printing!