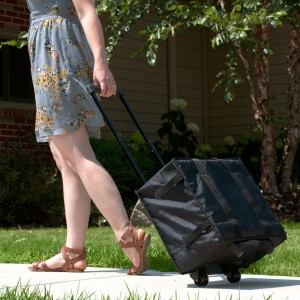 It's that time of year again! The hustle and bustle of making jewelry, packing it up, traveling to shows and setting up your booth or display table. One of the best time-tested ways to travel to shows is with a carrying case full of jewelry trays and tray liners. However, it can take time to find the right case, choose the trays, and then pick out the liners. Our Carrying Case Kit (available for a limited time) takes the guesswork out of shopping for a carrying case and saves you time! Here are the details…
The Case: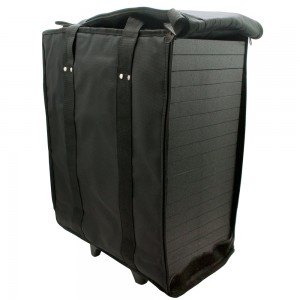 The case is our largest water-resistant canvas case that has wheels for easy transportation, a pull-out handle, and space for 17 1″ trays.┬áThe 91-4A is a side-loading case has a dual zipper to make placing trays in the case a breeze. This case also folds down compactly for easy storage.
The Trays & Liners: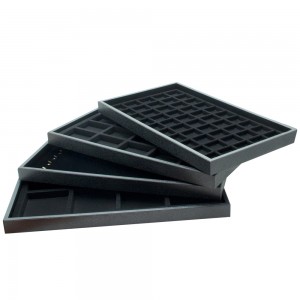 Here's the real time-saving part of the Kit–it comes with (17) of our popular TY-0011-BK 1″ plastic stackable jewelry trays and (17) assorted tray liners. The included inserts are as follows: (2) 96-07 (BK), (2) 96-08 (BK), (2) 96-10 (BK), (2) 96-18 (BK), (2) 96-24 (BK), (2) 96-50 (BK), (2) 93-1 (BK), (2) 92-72E BK, (1) 68-H-BK. All your jewelry needs will be covered with this assortment of liners!
Travel Tip: Worried about your jewelry staying safely in place during travel? Our foam ring liner (item 97-72E) doubles as a protector when placed over your jewelry! Learn all about it in our Jewelry Show Tip video on YouTube!
Happy travels!